Rota-Welder
Mobile Welding Machine for Welding Rotary Symmetric Parts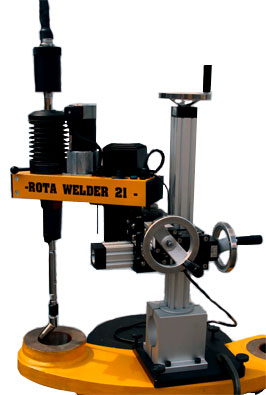 The Rota-Welder is a mobile welding machine for high-quality repair of weared bores and shafts.
Advantages:
No time-consuming and material-intensive manufacture of sockets for setting into worn out non-circular or non-centric bores!
With the solenoids, which are integrated in the base, you can apply the machine very fast!
No wastage of expensive welding material as its application is infinitely adjustable by potentiometer. Very little material is then removed in the subsequent machining process!
Best quality of the welding seam by constant welding speed!
You can even repair very small workpieces easily with the Rota-Welder, though you could not work manually!
You can use any MAG-welding machine!
Because of these advantages you can save lots of money, you would spend on machines and workers if you do it the way you used to do!
Technical Data
Weight:

28.0 kg

Working diameter:

30 - 200 mm

(with prolongation

800 mm)

Stroke range:
max.

125 mm

Burner:
Gas-filled,

140 A,

100% ED
Source of current:
any

MIG

/

MAG welding machine (recommended:

160 A,

100% ED)
Voltage:
Der Antriebsmotor und die Steuereinheit werden von dem im Sockel integrierten Trafo mit 24V Betriebsspannung versorgt.
Input voltage:
you can choose between 240, 220 und

110 V;

50-60 Hz

Feed:
Welding-feed is set to

3 mm/T

festgelegt.
Rotation speed:
Rotation speed of nozzle burner can be continious electronical regulated from

0 - 5 U/ min
Technical changes reserved!
Rittersbacher Weg 3
74850 Schefflenz/U.
Germany
Phone (+049) 06293/91007
Fax (+049) 06293/91008
info@fuewesi.de